Large Stand Up Tanning Sunbed
VX240 24 Tube 240watt. Max Tanning Time 10 mins

This is one of our top sellers, great space inside for even the largest of men or women. From as low as 6 min tanning, 24 240 watt tubes.
Client feed back rates this bed as best in our fleet
ALL NEW SUNBEDS COVERED BY 2 YEAR WARRANTY*
The VX240 maximises comfort while tanning and has exceptional performance. Manufactured with only the highest quality components this is an ideal model for Home Tanning Sunbed purchase.
Total body coverage with full surround tanning.

Vented cooling system

Fully hinged door
*Warranty does not cover a blown bulb or starter
Price ex VAT: €3,450
Current VAT 23%
Delivery & Set up €125+VAT Each Bed
This sunbed may also be available in ex-rental. Ex-rental sunbeds carry a 1 year warranty. For prices & details of ex-rental please
contact
our sales team.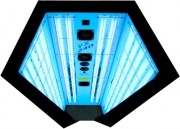 Non-refundable deposit €450
These sunbeds are ordered direct from UK manufacturing. Lead delivery time can be up to 8/12 weeks upon receipt of your booking deposit. As soon as we have your Sunbed we will endeavour to get it to you as soon as possible.
Click 'Add to Cart' to pay your deposit.