Gift Vouchers
Bronze Age Tanning Gift Vouchers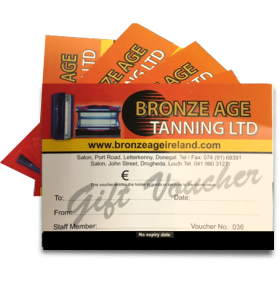 Please enter the amount of the Bronze Age Tanning gift voucher required below and click 'Buy Now' to go to the PayPal website to pay.
Treat someone special to the Bronze Age experience. Our Gift Vouchers are the perfect gift idea for any occasion.
Vouchers for Chill Out Time at Bronze Age Tanning are redeemable against all products and services in store and against home hire sunbeds.
Vouchers have no expiry date and free postage.
Purchase Bronze Age Gift Vouchers for a Christmas or Birthday gift or for any occasion