Elite Double Lie Down
Elite 24 Tube 240watt Max tanning time 10 min
ALL NEW SUNBEDS COVERED BY 2 YEAR WARRANTY*
The Elite 24 tube double unit has an ultra modern design which combines stylish curves and several unique features which has extra face and leg bulbs to provide the ultimate home use lay down sunbed.
*Warranty does not cover a blown bulb or starter
Curved top and bottom to promote an even all over tan and greater comfort

Hydraulically assisted lift and lower system enables finger tip control

Cooled by high capacity fans to ensure an even temperature throughout for greater comfort and efficiency

Tanning instructions and all relevant warnings fitted to each bed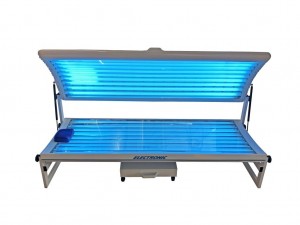 The Elite Double Lie Down is also available as a Red Light Therapy (RLT) bed. Red light therapy is a treatment that may help skin, muscle tissue, and other parts of your body heal. It exposes you to low levels of red or near-infrared light. To choose an RLT bed, select this option under 'Type' below
Price ex VAT: €2,850
Current VAT 23%
Delivery & Set up €125+VAT Each Bed
This sunbed may also be available in ex-rental. Ex-rental sunbeds carry a 1 year warranty. For prices & details of ex-rental please
contact
our sales team.
Non-refundable deposit €450
These sunbeds are ordered direct from UK manufacturing. Lead delivery time can be up to 8/12 weeks upon receipt of your booking deposit. As soon as we have your Sunbed we will endeavour to get it to you as soon as possible.
Click 'Add to Cart' to pay your deposit.