Carribean Standup Tanning Sunbed
26 Evolution 0.3 safe tanning tubes and the latest technology in electronic ballast. Max Tanning time 10 mins
.
ALL NEW SUNBEDS ARE COVERED BY 2 YEAR WARRANTY*
The Caribbean Home Tanning Unit is the largest vertical sunbed for domestic use. This vibrant and stylish unit features 26 Evolution 0.3 safe tanning tubes and the latest technology in electronic ballast, which allows the sunbed to run on 1 normal 13 AMP plug. The Caribbean stand up sunbed has twin 10 minute timers and a full length customer operated body breeze for your comfort. This 5 panel unit has been designed for full body coverage whilst maintaining close proximity tanning.
*Warranty does not cover a blown bulb or starter
AVAILABLE FOR SALE NEW
26 x 6ft Evolution 0.3 safe tanning tubes

Robust design with a modern finish

Large internal tanning area

Optimised UVA/UVB output

ONLY 1 x 13 AMP Plug

2 x 10 minute timers

Full length customer operated body breeze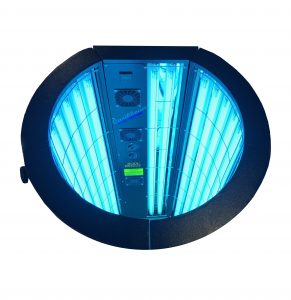 Price ex VAT: €3650
Current VAT 23%
Delivery & Set up €125+VAT Each Bed
Non-refundable deposit €450
These sunbeds are ordered direct from UK manufacturing. Lead delivery time can be up to 8/12 weeks upon receipt of your booking deposit. As soon as we have your Sunbed we will endeavour to get it to you as soon as possible.
Click 'Add to Cart' to pay your deposit.